This begins my new weekly series ,  the $5-5 minute project. Whether you are a busy working mom, busy stay-at-home mom, or just plain busy…anyone can tackle these quick and inexpensive projects that will help you exercise a little creativity. So grab your glitter and let's get started…
I don't know about you, but croupy coughs and runny noses make me want to curl up on the couch with a cup of hot tea. Whose spirits wouldn't be lifted by this $5, 5 minute get well gift? Just grab a $0.99 mug from Ikea or the dollar store, your sharpie marker, a few tea bags, and a few cough drops to leave on your co-workers desk and watch their spirits visibly lift.
You can also use a porcelain marker which can be found at most crafts stores. Baking the cup in the oven at 350 degrees for 30 minutes, will set the ink but be sure the cup is microwave and dishwasher safe.
Cost Breakdown:
Ikea Mug – $0.99
Tea – grabbed a few bags from a box I already had
Ribbon – already had
cough drops – $1.99 for 1 bag
Total Cost = $2.98 + tax
I'd love to share your $5, 5 minute projects. Shoot me an email with your idea or images of a project you have created at theweekendhomemaker (at) gmail.com.
Linking to: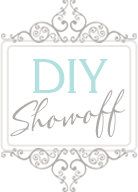 Share this article